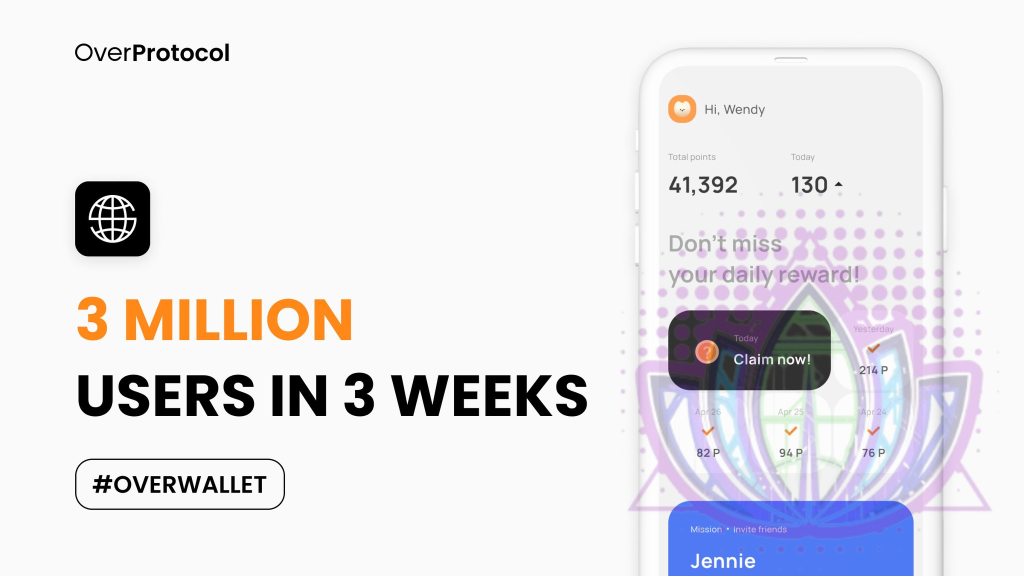 Over Protocol is a layer 1 blockchain based on a protocol called "Ethanos", which considers only active accounts as valid, which allows full nodes to discard stale data and run with less memory, which reduces storage requirements.
Anyone can run a node and become a validator. Ethanos itself was published on EuroSys'21.

What is known?

- Project attracted investments in the amount of $8 million from funds such as SK Inc., Naver Z, Netmarble and so on.
— Twitter the project is quite simple and mostly influencers here, but not without major players, among which we note CEO Hashed.
— The blockchain itself with the testnet will be launched in the near future, exactly as the Whitepaper promises soon. At the moment, we can collect points for registration and collect them daily for a quiz and login in the Over Wallet wallet. The project team is still dodging answers regarding the conversion and use of points. They will definitely be used at one of the offline events, but it is possible that they can be converted into tokens.

What are we doing?

1. Let's move on to the website .
2. Download Over Wallet.
3. Optionally, enter the code - WIA595U8U4 (+1000 points).
4. Every day we log in and go through the quiz.

We will not be able to find out more information about the points until the publication of the vp, and rarely will anyone directly talk to us about converting anything into tokens. So, as an antifomo 1 account, it is worth maintaining and observing, at least this activity may turn out to be a booster in the future, after participating in the next stages of project development.

Social networks: Twitter Discord
All xes!
Author: @l0xlmadara