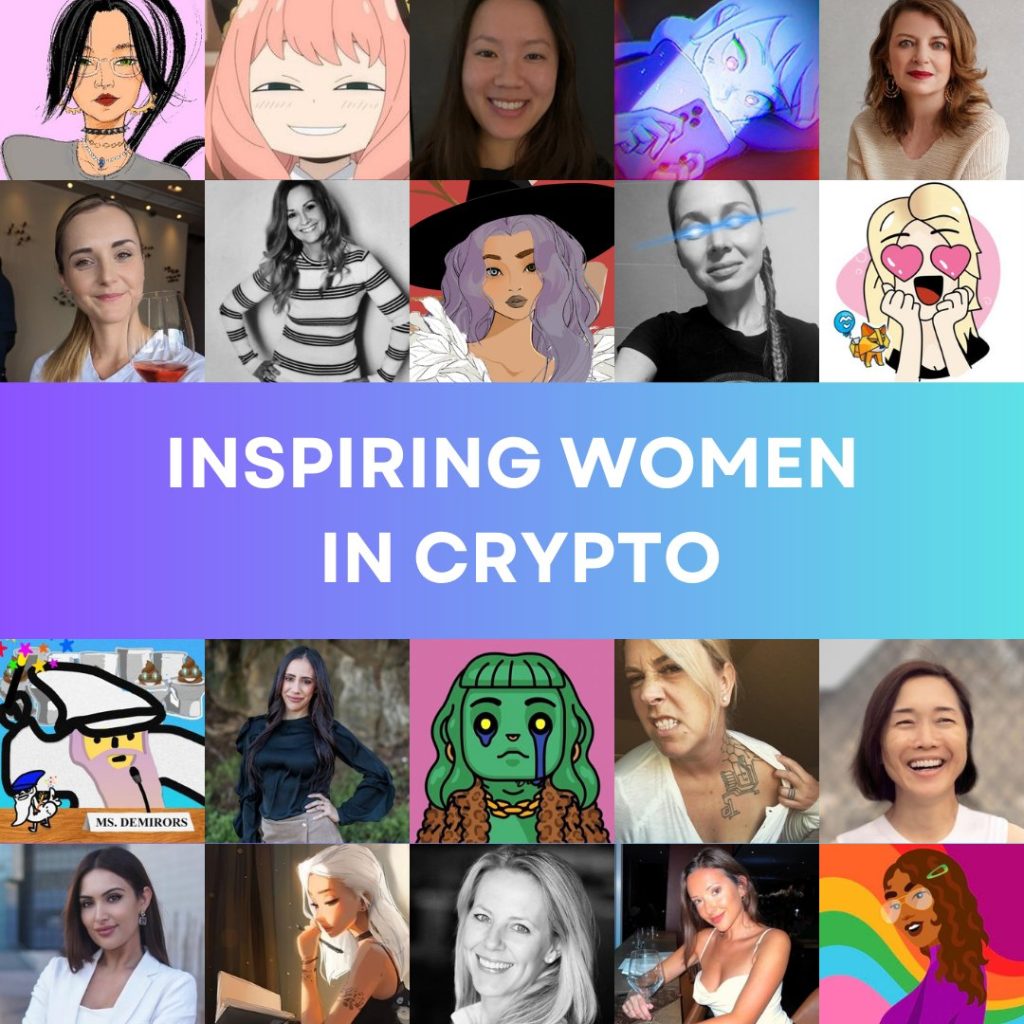 THE HOLIDAY OF MARCH 8 IS LONG PASSED, BUT NOBODY CANCELED LOVE FOR A WOMAN! 😉
🤔 There is a common delusionthat cryptocurrency is "game" exclusively for men. If we consider the real situation in the crypto industry, the participation of women is really small. Over 75% participants are men, which makes a woman in this environment real rarity. We invite you to familiarize yourself with the real "pearls", which have not only beauty, but also intelligence, and also create useful and meaningful content.
🌸 Lady of Crypto — An active crypto investor, researcher, trader, and just a very beautiful and athletic woman. Publicly forms its crypto portfolio. In 2021 turned 5000$ to more than 1000000$.
🌸 Noelle Acheson — Former Head of Research CoinDesk . Runs own newsletter Crypto is Macro Now, which highlights the overlap between macroeconomics and cryptocurrency markets in both directions. Immeasurably love Madrid.
🌸 Tay 💖 - Queen of network analytics and cybersecurity. Her account has a wealth of amazing insights into asset flows, hacks, basics, and security tips.
🌸 Wendy O — One of the most famous Web3 girls and a star The O Show. A crypto veteran who teaches people about blockchain.
🌸 Linda Xie — Co-founder Scale Capital , co-producer of Ethereum: The Infinite Garden , former product manager Coinbase. She shares great educational content and does in-depth research.
🌸 Laura Shin — Crypto journalist, host and newsletter writer Unchained Crypto . Follows all the important news of the crypto industry.
🌸 Meltem Demirors - Public speaker, meme queen and AI lover. Strategic Director CoinShares . Her content is an inspiring mix of nerds, memes, and deep research, a must-have on your Twitter feed.
🌸 CryptoNova — Cryptanalyst since 2016. Author of free e-book "Everything you need to know to start trading cryptocurrencies."
🌸 Brooke Lacey "Very inspiring and fun. Her content is a mixture of irony, nerds and real content, which is very inspiring. Pinning on Twitter is a must-see!
🌸 Preethi Kasireddy — Entrepreneur, engineer, writer and student. Founder DappCamp . Conducts courses on cryptocurrencies.
🌸 Alena Satoshi V — Author of The Little Bitcoin Book. co-founder SatoshiLabs and head of design Trezor.
🌸 BETTY - CEO, founder and "Mother of the Horde of one of the most popular Ethereum NFT collections" deadfellaz .
🌸 Kathryn Haun - Founder and CEO Haun Ventures. Highlights the most important developments in the Web3 space and shares valuable insights into security, regulations, and innovations.
🌸 Aya Miyaguchi - CEO Ethereum Foundation . A very positive and inspiring leader. She collects a lot of useful content for Web3 developers and also shares some really cool Japanese vibes.
🌸 Lisa N Edwards - Experienced trader. It will be useful for everyone who actively trades or is just starting their trading journey.
🌸 Nikita Sachdev — Founder LunaPR. One of the TOP 50 Inspiring Women Leaders of 2023 according to Arabian Business and just a very beautiful woman.
🌸 DeFi Princess — Storyteller, trader and analyst who publishes cool and in-depth research on new cryptocurrency projects.
👩‍💻 Contrary to all stereotypes the fair sex play important role in the development of the crypto industry. They ask high standards in many areas and contribute to the popularization of cryptocurrencies in society.
Based thread : Evaneskate